| | |
| --- | --- |
| Device Technology: | Thermal Imaging |
| Sensor Resolution: | 384x288 |
| Optical Magnification: | 3.5X |
| Digital Magnification: | 4X |
| Sensor Pixel Size: | 17 Micron |
| Sensor Frame Rate: | 50hz |
| Objective Focal Length: | 50mm |
| Objective F#: | 1.2 |
| Detection Range: | 1800 |
The Trail XQ50 LRF is based of the popular Trail series that night hunters have given many 5-star reviews. In addition to the standard Trail features including high resolution, shuttered NUC, on-board recording, picture in picture, one shot zero, and rechargeable batteries the XQ50 LRF has a completely integrated and user friendly 1,000 yard rated laser rangefinder. Simply enable the LRF in the scope menu and with the press of a button the Trail XQ50 LRF will display a readout in yards or meters. The Trail LRF has 3 user-selectable indicator shapes that replace aiming reticle upon activation.

The XQ50's variable 2.7-10.8x magnification allows a wide field of view for quick target acquisition and an up-close image for precise shot placement. A proven 384x288 sensor provides a detection range for human-size targets up to 1850 yards. IPX7 waterproof, fogproof and dustproof, the Pulsar Trail XQ50 performs flawlessly in temperatures ranging from -13 to 122 degrees Fahrenheit and boasts an ultra-easy user interface with ergonomic button locations.

Capturing footage of your experience has never been easier with built-in video recording, 8gb of internal memory, rich 17-micron pixel pitch, a frost resistant 640x480 AMOLED display and Stream Vision App compatible Wi-Fi. The XQ50's popular "white hot" and "black hot" modes, 13 digital reticle options and 50Hz refresh rate provide users with fluid imaging, customized thermal mapping and a richly contrasted field of view. Proprietary picture-in-picture (PiP) endures repeatable, accurate performance.

Additional features include a built-in accelerometer, stadiametric rangefinder, convenient carry case and wireless remote.
At a high refresh rate of 50Hz, the Trail provides comfortable viewing throughout dynamic, rapid motion.

DLOC-PTM Specialized Stability for Repeatability
The DLOC-PTM was designed specifically for Pulsar's line of thermal imaging and digital night vision scopes. The patented DLOC mounting system and manufacturing process is proven to be the most accurate and reliable mounting system available. You simply can't deny the quality and long term repeatably of a DLOC-PTM.
...more info.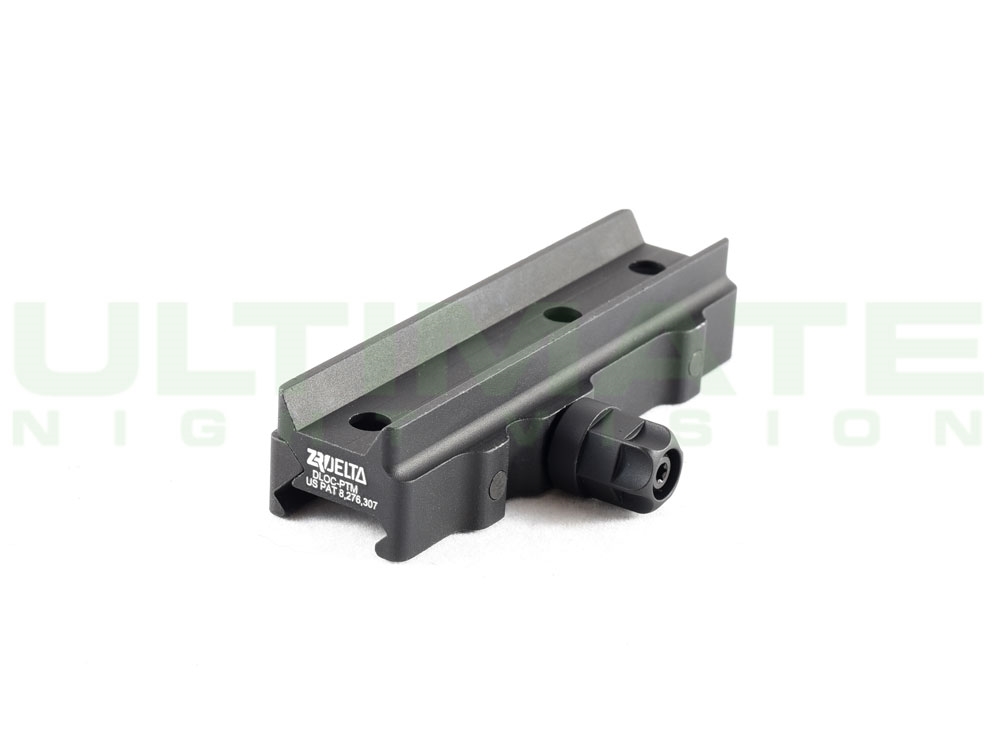 High recoil resistance rating
The Trail features exceptionally high shock resistance, capable of handling high-powered firearm recoil, up to .375-cal., including smoothbore and airsoft.


3 Zeroing Profiles / 15 Distances
Save three individual firearm/ammunition zeroing profiles, including different reticles, at up to five distances, in the Trail's memory. Zoom zeroing support ensures precise zeroing accuracy.

10 Electronic reticles
A full complement of digitally displayed reticle solutions ensures quick target acquisition and a richly contrasting sight picture. Choose from an array of reticle patterns, colors and brightness settings.

Picture-in-Picture mode
Picture-in-Picture improves accuracy by providing a magnified image of the reticle area at the top of the display. With only 1/10 of the display area reserved for PiP, the field of view remains virtually unobstructed for simultaneous PiP and FOV viewing.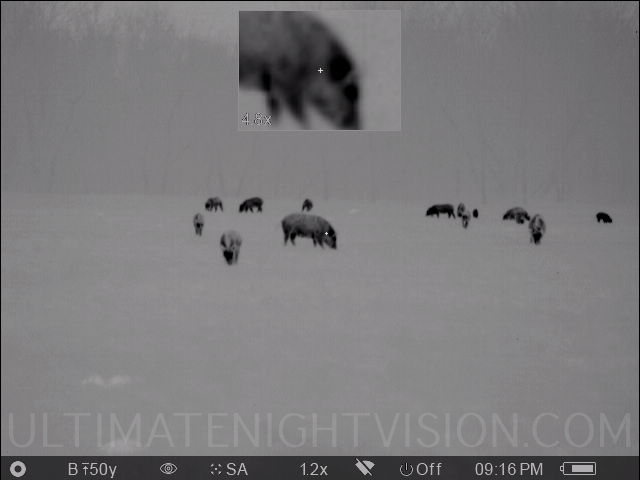 Built-in video recording
Capturing still images and video is seamless with the Trail's built-in video recorder. Image and video content is stored internally and can easily be transferred to PC/laptop via wired connection or Wi-Fi.


Mobile-friendly (iOS, Android) with remote control and live internet streaming
The highlight of the Trail is the ability to link via Wi-Fi the device with Android and iOS based mobile units using the free mobile application Stream Vision. The Stream Vision software connects the device with Android/iOS mobile unit (smartphone or tablet) which enables you to receive footage in the real time mode, to distantly operate the device with your smartphone, as well to stream online the image captured by the device to Youtube.



Built-in accelerometer / gyroscope
A built-in accelerometer/gyroscope improves accuracy by precisely identifying cant and angles greater than 5° with an arrow indicating the direction and degree of lateral tilting. Increased angles are denoted with additional arrows.Moreover, the riflescope can be set to auto shutdown when resting in a non-shooting position. Unit operation may be disabled when the vertical angle is greater than 70° or horizontal angle is greater than 30°. The accelerometer feature may be temporarily disabled for continued use at excessive angles.

Quick-change B-Pack power units
Trail includes a progressive autonomous B-Pack power supply consisting of a quick-detach, rechargeable IPS5, 5.2A-h battery pack designed to deliver over 8 hrs. of operation on maximum mode. Higher-powered IPS10 battery packs, as well as CR123A and AA battery cases, also are available and provide a perfect off-the-grid power solution.
Stadiametric rangefinder
Based on estimated heights of observed objects, the stadiametric rangefinding reticle makes determining precise distances fast, easy, reliable and repeatable.

Fully waterproof
IPX7 waterproof-rated protection ensures the Trail performs perfectly in wet weather, even during intense rain, snowfall and submersion in 3 ft. of water for up to 30 min. (IEC 60529).



Wide range of operating temperatures
With a frost-resistant AMOLED display, the Trail thermal imaging sight is designed to deliver flawless performance at an extreme temperature range of -25° ... +50°С.
Fully-functional wireless control
The ergonomic, wireless remote control, with encoder wheel, puts the full range of the Trail's capabilities at your fingertips for comfortable, convenient, hands-off operation.

Display-off mode
During short periods of inactivity and better concealment, Display Off powers down the display without interrupting other operating functions. Using Display Off means a much faster restart time when you need it most.

User-friendly interfaceUser-friendly interface
The Trail is designed with ease-of-operation in mind. User feedback has resulted in the most friendly interface to date, complete with an easy-to-read, icon-driven, alpha-numeric status bar at the bottom of the display. Internal menu items and options are also displayed on a contrasting gradient substrate so you can keep an eye on settings without losing sight of your objective.
Updatable software
Laser Rangefinder
On-board Recording
Picture-In-Picture
3 User Profiles
15 Distance Settings
10 Reticles
Video Streaming
Quick-Change Power Packs
Stadiametric Rangefinder
IPX7 Rated Submersible
Display Off
Updatable Software
Trail XQ50 LRF Manual

Trail Reticle Catalog


TECH_SPECS_TABLE:1, FP: DLOC-PTM(1), FR:1, CW: , IMG: 100 .jpeg,, VID: NTSC/PAL, OBR: Yes, SSR:8-14 micron, LM:Germanium, EYR: 50mm, EYD: -4 to +4 EDI:, LFT: Manual Dial, CON: Micro USB, COP: Data / External Power, BT: Yes, WIFI: Yes, DRE: 640x400, DTY: AMOLED, EOT: -13C/-25F to +50C/122F, IP: IPX7 , SUT: Under 10 Seconds, RT: 10 Hours IPS5;20 Hours IPS10, PS: Rechargeable Packs IPS5 and IPS10, RET:14 Reticles / 3 Profiles, RR: 375 H&H, WAR:3-Years, HM: High Strength Polymer, UI: 5 Button Pad/App, MI: Picatinny(bottom), MAT:Aluminum/ABS/Steel/Copper/Glass/Germanium, H: , WE:, WI: , MTTF:, DTT: Thermal Imaging, STY: ULIS Core, SRES: 384x288, SFR: 50hz, SPS: 17 Micron, LMO: 2.7X, LMD: 4X, LFL: 50mm, LFN: 1.2, HFOV:7.5, VFOV: 5.6, DR: 1800, YTID:BO4q4DZP5TI,
Environmental Specifications

Operating Temperature Range

-13C/-25F to +50C/122F

Power Source

Rechargeable Packs IPS7 and IPS14

Run Time

10 Hours IPS5;20 Hours IPS10

Lens Specifications

Optical Magnification

3.5X

Objective Lens Material

Germanium

Housing Material

Magnesium/High Strength Polymer

Materials

Aluminum/ABS/Steel/Copper/Glass/Germanium

Objective Focal Length

50mm

Focusing Mechanism

Manual Dial

Horizontal Angular Field of View

7.5

Vertical Angular Field of View

5.6

Diopter Range

-4 to +4EDI

Connector Output

Data / External Power

Reticle

14 Reticles / 3 Profiles

Startup Time

Under 10 Seconds

Sensor Specifications

Device Technology

Thermal Imaging

Sensor Resolution

384x288

Sensor Pixel Size

17 Micron

Spectral Response

8-14 micron

Warranty

3-Years

Sensor Type

ULIS Core

Spectral Response

8-14 micron

Objective Lens Material

Germanium

Housing Material

Magnesium/High Strength Polymer

Materials

Aluminum/ABS/Steel/Copper/Glass/Germanium

Focusing Mechanism

Manual Dial

Horizontal Angular Field of View

7.5

Vertical Angular Field of View

5.6

Eye Relief

50mm

Diopter Range

-4 to +4EDI

Operating Temperature Range

-13C/-25F to +50C/122F

Power Source

Rechargeable Packs IPS7 and IPS14

Run Time

10 Hours IPS5;20 Hours IPS10

Display Type

AMOLED

Display Resolution

1024x768

Video Output

NTSC/PAL

Image Capture

100 .jpeg

Onboard Recording

Yes

Bluetooth

Yes

Wifi

Yes

Ingress Protection

IPX7

Recoil Rating

375 H&H

Connector Type

Micro USB

Connector Output

Data / External Power

Reticle

14 Reticles / 3 Profiles

Startup Time

Under 10 Seconds

User Interface

5 Button Pad/App

Mounting Interface

Picatinny(bottom)

YouTube

BO4q4DZP5TI

Product Name

Pulsar Trail 2 LRF XQ50 384 - 3.5-14X Thermal Imaging Scope

Operating Storage Temperature Range

-13C/-25F to +50C/122F