SKU:
L3-VYP-14UW
UPC:

Shipping:

Free Shipping

| | |
| --- | --- |
| Device Technology: | Image Intensification |
| Optical Magnification: | 1.1X |
| Objective Focal Length: | 26mm |
| Objective F#: | 1.2 |
| Detection Range: | 1650 |
Includes:
Vyper-14 Chassis

MIL SPEC Tube Data Sheet

Objective Lens Cap (A3144318)

Mil-Spec Headmount Assembly USGI "Skullcrusher"(

A3144268)
PVS-14 J-Arm Headmount Adapter(A3256347)

PVS-14 Neck Cord (A3144306)

PVS-14 Sacrificial Window (A3144264)

PVS-14 Demist Shield (A3256353)

Soft Case (A3187392)

AA Battery(1)

Operating Manual
The PVS-14 is the all around best multi-functional night vision monocular available. Head or helmet mounted, the PVS-14 allows the user to retain their night adapted vision in one eye while viewing their surroundings through the illuminated eyepiece of the PVS-14. The new battery housing completes the perfect package by allowing the user to power off the unit when in an upright position and power on when flipped down. Another strength is its ability to be weapon mounted behind most collimated daylight aimers and Reflex sights.
This allows the user the ability to use their PVS-14 both as a night vision monocular for increased mobility and tactical awareness and as a short range weaponsight. Gain control gives the user the ability to increase or decrease the tube gain. Under extremely dark conditions, gain control allows the user to adjust the gain upward, giving a better image. Under high light conditions, details can be washed out due to an excess of light. Lowering the system gain can allow those details to be better seen. Additional features of the PVS-14 include an infrared LED with LED indicator and a low battery indicator.
MEANINGFUL PVS-14 HOUSING UPGRADE
The Chassis may look somewhat similar to a legacy PVS-14 housing, but that's where it ends. The Vyper-14's design improvements span the entirety of the chassis including the objective bore structure, objective bore threads, objective lens retaining ring, helmet and weapon mounting systems, gasket channel, battery compartment screw holes, IR illuminator and light sensor widow, multiple other interior and exterior surfaces, and the list goes on.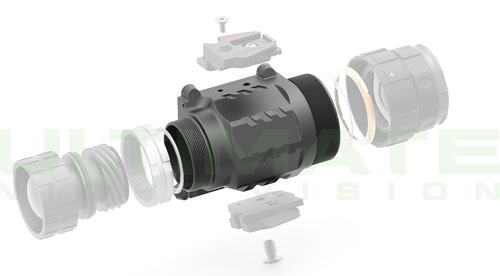 These meaningful improvements were all engineered to maintain physical mass while increasing chassis impact resistance, image tube stability, and sheer surface strength. This makes the Vyper-14 is a worthy upgrade for any PVS-14.
DECREASED SURFACE COMPROMISE RISK
The entire chassis is made of ultra-rugged fiberglass reinforced tried-and-true Ultem resin. This lightweight material is nearly indestructible which is why fiberglass reinforced Ultem is the go-to material for many military grade lasers and personal vision systems. The windows for the IR illuminator and light sensor have a decreased radius and are thicker than a legacy housing. This design does not effect the function of the electronics, but does dramatically increase the strength of the windows and surrounding housing.

IMAGE TUBE PROTECTION
The Vyper-14 integrates with virtually any image tube, interface hardware, or furniture design architecture making is a solid foundation for the most modular applications. These integrations significantly improve image tube protection and positioning coupled with the ability to modernize the system with accessories and high yield optical trains.
RUGGEDIZED JUNCTURES
All exterior corners of the Vyper-14 are filleted for additional support and the Vyper-14 is also twice as thick as a legacy PVS-14 housing where the thread relief meets the body. The improved exo-skeleton allows for enhanced optical augmentation, expanded environmental, operational protection, and life-cycle increase.
LOGISTICAL EASE IN MAINTENANCE
The Vyper-14 objective bore features a "Burk Ring" for easy removal of the objective lens which translates to added logistical ease in maintenance. The Burk Ring, named after the designer, is an external stop system that allows the objective lens housing to be changed without dissembling the entire monocular. To remove the objective lens assembly on a legacy PVS-14 system you have to remove the battery housing, eye piece assembly, tube retainer ring, light pipe, image tube, and close focus stop ring.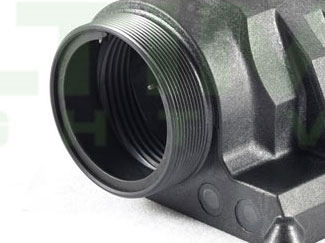 THREAD SURFACE INCREASE
Thread material from a cross-threaded tube retainer ring is one of the most common sources of debris between the eye piece and image intensifier on a legacy PVS-14. The thread surfaces on the Vyper-14 are uninterrupted and machined with more thread surface.
Comparing the Vyper to a legacy housing we immediately noticed 2 additional levels of threads for the objective lens assembly which provide better concentricity and lens stability while focusing objective lens. The increased thread surface/stability in the objective bore makes the Vyper-14 submersion tolerant and offers better optics support. The chassis is still 100% compatible with legacy optics.
DUAL SIDED INTERFACE POINTS
One of the most notable additions to the Vyper-14 are the 2 mounting positions for RQE dovetail shoes. The mounting points are reinforced and are the only shoes that make a PVS-14 TRULY ambidextrous. The RQE shoes are offset appropriately for the right and left side and feature a patented "tolerance tooth" so that the shoe will always fit any helmet or weapon mount snugly. The Vyper-14 still has the standard 1/4-20 mounting hole to maintain legacy PVS-14 accessory compatibility, but after we tried the RQE shoes we don't see any reason to go back.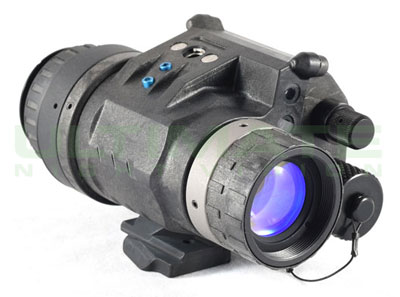 | | | | |
| --- | --- | --- | --- |
| Maximum of four spots allowed per tube | | | |
| Spot Size (inches) | Zone 1 | Zone 2 | Zone 3 |
| >0.012 | 0 | 0 | 0 |
| >0.009 to 0.012 | 0 | 0 | 0 |
| >0.006 to 0.009 | 0 | 1 | 1 |
| >0.003 to 0.006 | 0 | 2 | 2 |
| Bright Spots | 0 | 0 | |

A spec sheet will be included with required specifications.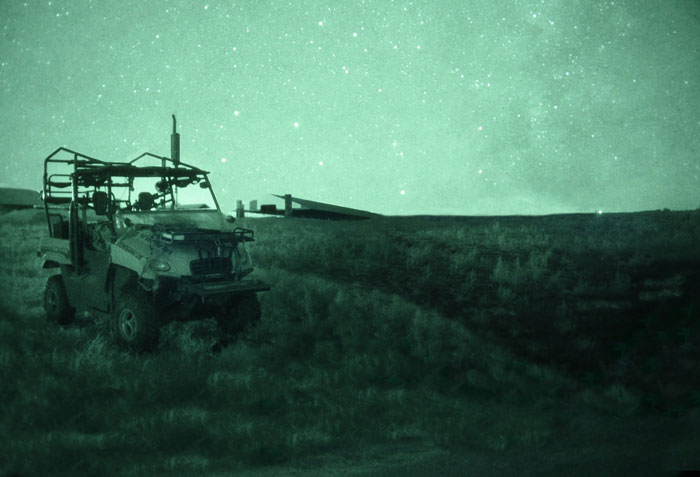 Rugged

Mil Spec Optics
Manual Gain Control
Weapon Mountable
Lightweight
Internal Low-Battery & IR Indicators

Autogated Oower Supply
| | |
| --- | --- |
| Field of View | 40˚ |
| Magnification | one power (1X) |
| Diopter Adjustment | -6 to +2 Diopters |
| Eye Relief | 25mm |
| Submersible | 66 feet |
| Objective Lens | 27mm, f/1.2 |
| Focus Range | 9.8" to infinity |
| Power Source | 1 AA-Size Battery |
| Operation Time | 50+ hours |
| Weight (w/o batteries) | 12.5 oz (355 g) |
| Size | 4.5"L x 2.5"W x 2.75"H |
| Warranty | 3-Years |
| | | | |
| --- | --- | --- | --- |
| Maximum of four spots allowed per tube | | | |
| Spot Size (inches) | Zone 1 | Zone 2 | Zone 3 |
| >0.012 | 0 | 0 | 0 |
| >0.009 to 0.012 | 0 | 0 | 0 |
| >0.006 to 0.009 | 0 | 1 | 1 |
| >0.003 to 0.006 | 0 | 2 | 2 |
| Bright Spots | 0 | 0 | 0 |
Display

Country of Manufacture

USA

Environmental Specifications

Lens Specifications

Optical Magnification

1.1X

Objective Focal Length

26mm

Horizontal Angular Field of View

40

Vertical Angular Field of View

40

Eyepiece Focal Length

27mm

Startup Time

Less than 1 second

Focusing Mechanism

Manual

Sensor Specifications

Device Technology

Image Intensification

Intensifier Resolution

64-72 lp/mm

Intensifier Resolution

64-72 lp/mm

Horizontal Angular Field of View

40

Vertical Angular Field of View

40

Exit Pupil

14mm

Eye Relief

25mm

Eyepiece Focal Length

27mm

YouTube

rGpMlxu76fE

Mounting Interface

1/4-20

Startup Time

Less than 1 second

Product Name

L-3 Gen3 Filmless White MIL SPEC Vyper-14

Reticle

None

Eyepiece Diameter

27mm

Bluetooth

No

Focusing Mechanism

Manual

Length

4.5 in

Run Time

40 hours

Power Source

1xAA

Diopter Range

-2 to +6

Country of Manufacture

USA

Recoil Rating

5.56 NATO

Ingress Protection

IP67

Wifi

No

Onboard Recording

No

Image Capture

No

Video Output

No

Height

2.7 in

Width

2.5 in
For context, this purchase was made for use in amateur astronomy. it has been a very long time since I looked through a commercially available image intensifier. This system is outstanding. It looks like I am watching a 4K black and white video. Sees into dark spaces with no issue. My sky is again full of stars, even with horrible light pollution. Dealing with UNV has been first rate. Todd was very helpful and knowledgeable. The Vyper construction is built like a tank. Very pleased with my purchase.

Great way to try out a NV system

I have been researching whether or not a NV system would work for an application in aviation. Plenty of information on close in tactical or hunting, but not much for aviation on the less than tens of thousands of dollars. It was great to be able try out a system before ordering a device for thousands of dollars and finding out it wouldn't work. When I get ready to buy, I will be looking to ultimatenightvision.com because of their rental service. Thank you for having this service. Connie

I just received my NVG and it is a quality build all the way. Turns night into daylight and the build is like a tank. Very happy with the monocular and plan to add a second so I can make goggles out of them for better depth perception. You can't go wrong with UNV!

Small, lightweight and robust Bridge

Works awesome with the RQE shoe set on dual vyper14s. I was able to adjust it to the perfect distance from my eyes and line them up perfectly with the distance between my eyes. Positive lock up and easily able to flip one up or down when needed.

As always, great service and products in stock with UNV. I always check UNV first!